Mona Rolly



Species

Human

Hair

White

Eyes

Black

Skin

Dark

Magic Color

Pink

Alignment

N/A

First Appearance
Mona
Rolly is
Vaniji
's honey. They met at a bar where she was working as a dancer.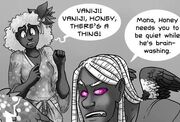 Mona met Vaniji, and they started a relationship. It's unknown whether it was from the very beginning, but Vaniji used his mind-control magic on her in order to get his way and keep her from reporting his crimes.
Click to show spoilers
Han briefly takes her appearance in order to get closer to Vaniji and take his appearance, apparently not killing her.